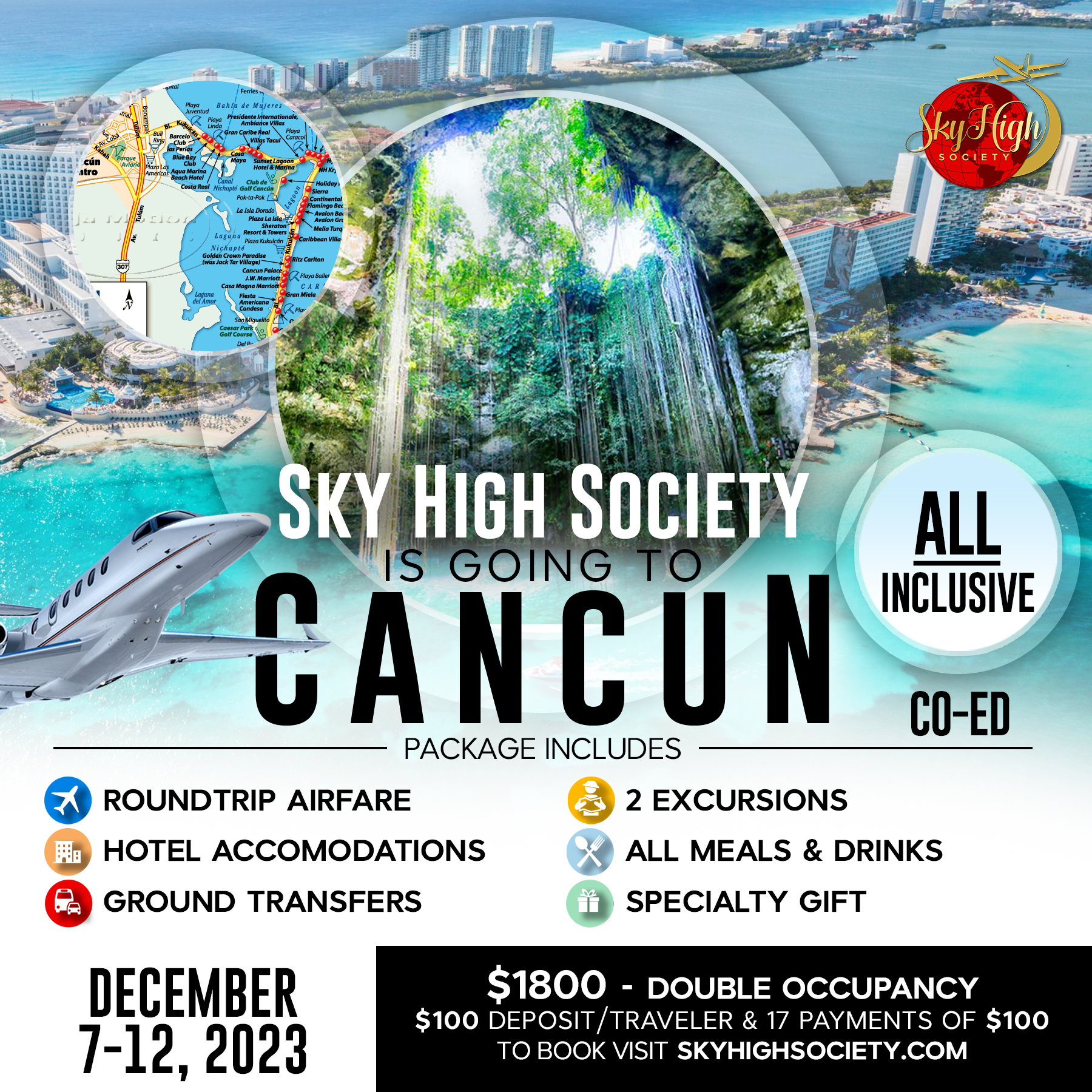 Cancun: December 7-12, 2023
$1800 PER PERSON BASED ON DOUBLE OCCUPANCY
SINGLE OCCUPANCY IS $543 ADDITONAL
WHAT'S INCLUDED
– ROUNDTRIP AIRFARE
– LODGING ACCOMODATIONS (6 days, 5 nights)
– ALL-INCLUSIVE PACKAGE
– ALL BREAKFASTS
– ALL LUNCHES
– ALL DINNERS
– ALL BEVERAGES (alcoholic and non-alcoholic)
– 2 EXCURSIONS
– AIRPORT TRANSFERS – Round trip airport transfer from the airport to the hotel
– SPECIALTY GIFT FROM SKY HIGH SOCIETY
WHAT'S NOT INCLUDED
GRATUITIES

COST OF PCR TEST

THE COST OF ANY OTHER ACTIVITIES NOT LISTED IN "WHATS INCLUDED"
KNOW BEFORE YOU BOOK
WHAT IS THE CURRENT VACCINATION/COVID TESTING REQUIREMENTS?
YOU DO NOT HAVE TO BE VACCINATED TO ENTER MEXICO.
SHOULD I GET TRAVEL INSURANCE?
SKY HIGH SOCIETY HIGHLY RECOMMENDS THAT YOU PURCHASE TRAVEL
INSURANCE. THIS MUST BE PAID FOR UPFRONT AT THE TIME OF THE
DEPOSIT. SPECIFIC DETAILS ARE OUTLINED IN THE CONTRACT.
I AM A SINGLE TRAVELER. SHOULD I PAY A SINGLE SUPPLEMENT?
WE HAVE ROOM MATCHING AVAILABLE. HOWEVER, ITS NOT GUARANTEED.